Superior Course, Great Playing Conditions, Reasonable Cost!
The Mississippi Golf Club is semi-private and member-owned. We offer a number of types of memberships to meet the diverse needs of our members. We offer superior facilities at a reasonable cost. We welcome applications for membership from all types of players, as evidenced by our various tailored offerings below.
For 2020 we are offering first-year incentives to new fully privileged members, as well as ongoing discounts for active service military and for groups of 8 or more new members joining together.
If you're interested, or know of neighbours, family or friends who may be interested, please contact Dan Kolar, our Pro-Manager, at 613-257-3396 or download a 2020 New Member Package from this web site.
Click on the following link for a printable version of our new member package:
2020 NEW MEMBER PACKAGE and APPLICATION FORM (Printable)
2020 Mississippi Golf Club Membership Fees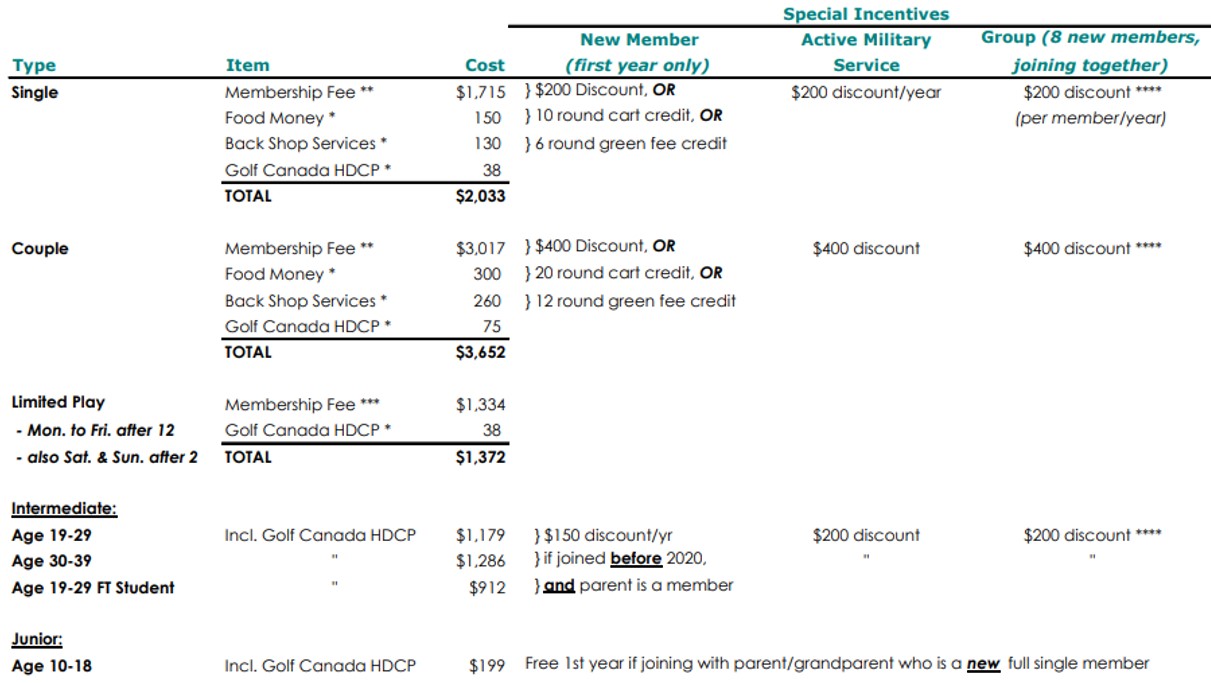 Check out our 2020 CORPORATE MEMBERSHIPS. This is the best corporate offering in the Ottawa area!
- Copy of proof of age is required for junior and intermediate members (age as of April 15, 2020)
- Junior play is restricted to after 12pm daily. An unlimited junior membership is available.
- Intermediate members who joined before 2020 qualify for a $150 discount if parent is a member, or if applicant is a past junior member.
- All fees are subject to HST where applicable
* Compulsory charges.
** Membership fee includes annual capital assessments of $362 per full member
*** Limited Play membership available for play Monday - Friday after 12pm and weekends after 2pm.
NOTE: Limited Play members are not eligible for play on competitive club teams. They may participate in the Wednesday morning men's league or the Thursday morning ladies league for an incremental season fee of $200, plus tax (or by paying daily green fees).
**** Group must maintain at least 8 members to retain discount each year, or bring in equivalent new members.
FOR ADDITIONAL MEMBERSHIP INFORMATION, or TO JOIN, PLEASE CONTACT:
Mississippi Golf Club by email golf@themississippi.ca or Phone 613-257-3396 or Fax 613-257-5155